Wyświetlenie artykułów z etykietą: sarakit
sobota, 05 sierpień 2023 10:32
Exciting News!
We are thrilled to introduce our latest project, SaraKIT – the ultimate face analysis and robotics solution for Raspberry Pi 4 CM4! 
Check out our brand new promotional video showcasing SaraKIT's cutting-edge features and versatility.
If you're as excited as we are about SaraKIT, join us on our pre-crowdfunding campaign! Support us and be the first to get your hands on this amazing platform. Click the link below to learn more and back us up: https://www.crowdsupply.com/saraai/sarakit
Together, let's explore the limitless possibilities of SaraKIT in the world of AI and robotics!
poniedziałek, 14 listopad 2022 10:14
The SaraKIT is carrier board for Raspberry Pi CM4. This is one of our sub-products. Equipped with thee microphones with the function of sound localization and a stero output enabling the implementation of projects related to voice assistants. Two independent BLDC drivers enable motor control for mobile device projects. Dual camera CSI interface.
Raspberry PI CM4 compatible socket 
Audio based on ZL38063


three mirophones SPH0655 

Sensitivity -37dB ±1dB @ 94dB SPL
SNR 66dB

Amplified stereo output 2x6W 4Ohm

Two three-phase bldc drivers DRV8313 65Vmax 3A-peek
Two encoder input (may be reprogramed as GPIO)
11 GPIO( UART, I2C, PWM..)
Two camera interfaces CSI
Digital Accelerometer LIS3DH, 3-Axis, 2g/4g/8g/16g, 16-bit, I2C/SPI interfaces
Digital Accelerometer and gyroscope LSM6DS3, 6-Axis, full-scale acceleration range of ±2/±4/±8/±16 g and an angular rate range of ±125/±250/±500/±1000/±2000 dps
Embedded, programmable 16-bit microcontroller with 32KB memory dsPIC33 
Host USB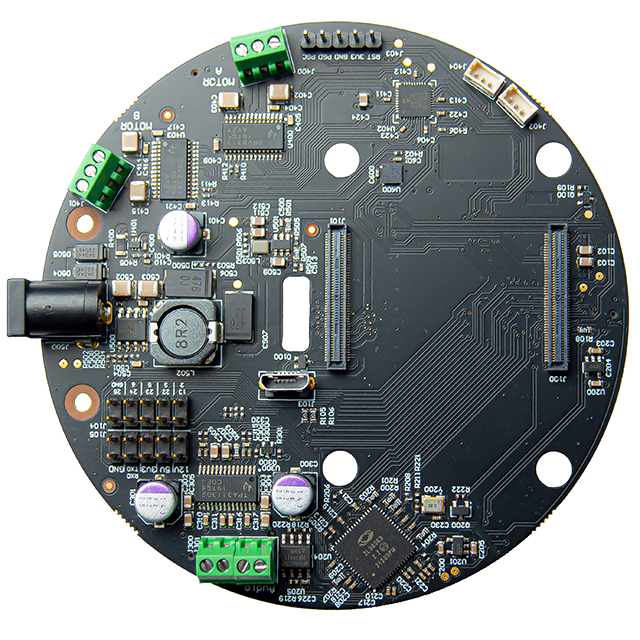 Smart speaker
Intelligent voice assistant systems
Voice recorders
Voice conferencing system
Meeting communicating equipment
Voice interacting robot
Car voice assistant
Brushless Gimbal BLDC Motor controller
Other scenarios need voice command